It wasn't long ago that I was listening to some of my classic rock bands and I found myself wishing that there was something out there today that had a similar feel. Sure, there are a lot of classic bands still touring and putting out music, but most of them don't have the same power or passion of their glory days.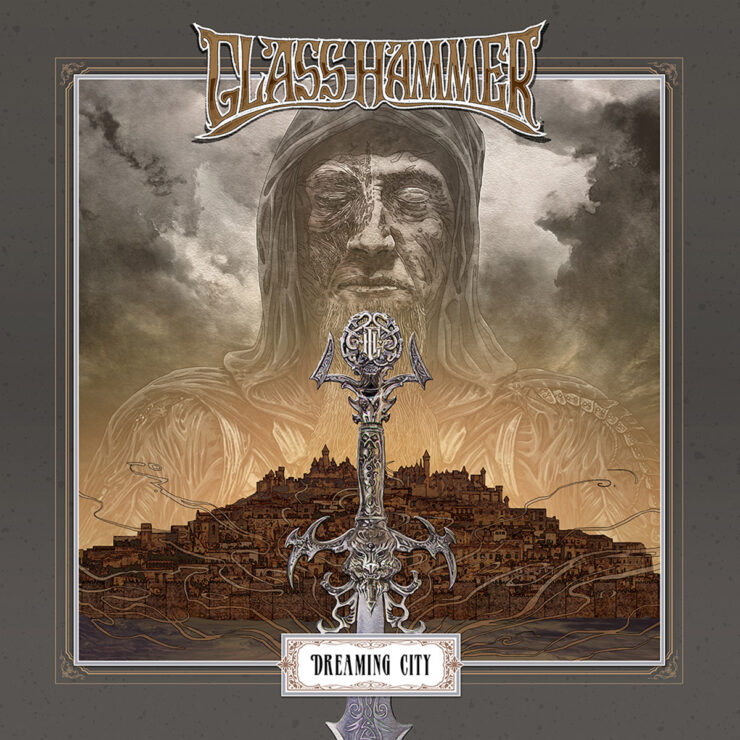 Then I was given the opportunity to listen to the new album by a band called Glass Hammer, who I'd never heard of. Sure, I'll give it a listen. The title was certainly interesting enough, Dreaming City. This made me think immediately of the Michael Moorcock story of the same name, and as I looked into it, I saw that there were other similarities as well – a sword of power, a cursed warrior, a lost love, and powers of twisted magic that haunted the "hero" of the tale.
Oh, I was hooked. From the first chords I was mesmerized and locked in until the final moments an hour or so later. It came out pounding heavy but melodic, putting me to mind a quick comparison to some of the gothic metal bands, such as Tiamat or Moonspell. But then that gave way to a more symphonic quality, still maintaining its rock edge but becoming more of a driving mixture of progressive melody and sound. The influences are all here: King Crimson. Emerson, Lake & Palmer. Jethro Tull. Yes. Blue Oyster Cult. Rush. Kansas. Pink Floyd. Maybe a touch of Dream Theater.
"In the Vales of Pagarna there is a doom-haunted city where no man dreams; for dreams are the price of entry."
Dreaming City is a concept album, where all 12 tracks run together as a continuous experience. Skallogrim is our anti-hero, a swordsman that ran afoul of dark magic and must find his lost love before she is killed. Terminus is his sword, giving him an extra edge as he descends into madness to defeat his foes.
The story behind the music is "inspired by" a tale called Skallagrim and the Dreaming City – Book One of the Terminus Chronicles. I found myself doing a quick search to see where I could get a copy of this book, only to learn that it is as much a piece of fiction as the story itself. It seems that it's an idea by lyricist Steve Babb, and that it's something that he's contemplated writing. Let's hope he decides to publish it, as well as more of the "Chronicles", for it would make for an enjoyable read for fans of sword and sorcery.
It turns out that Glass Hammer has been around since 1992, though they've never achieved the mainstream success of many of their peers. After listening to this album, I find that to be a true shame, as the music world has a gathering of talent here in place that begs to be heard. I know that I'll be going back and finding work from their back catalogue.
When I have time to relax and enjoy myself in a little escapism, I often find myself reading works of epic fantasy or sword and sorcery. I like to turn on some good music to play in the background as I read, to help me immerse myself in the world. In a way, it's like a soundtrack to the story I'm reading. Well, with Dreaming City, I can do both at once. It's the perfect musical soundtrack to its own lyrics, telling a tale as epic and bloodthirsty as any of the books I read.
https://glasshammer.com/discography/dreaming-city/
Buy Dreaming City by Glasshammer