100 Months: The End of All Things is John Hinkleton's final brutalist farewell to the world, and it is by far the hardest book I have ever had to review. I have spent the last two months mulling over how to say what this story is without sounding constrained. Because this story is everything, and in the end, it is nothing because John is gone.
"I am raised upon the breeze my love…"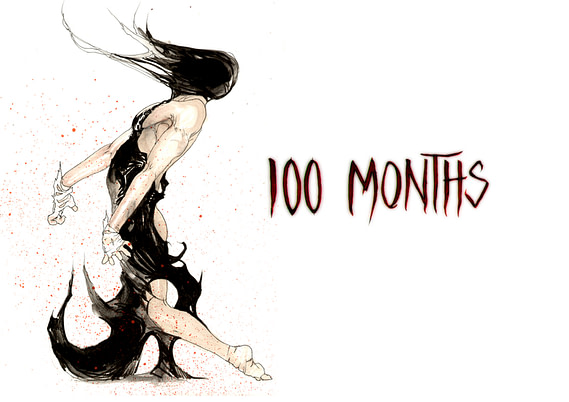 John Hinklenton died of MS in 2010. He chose to end his own life and his battle with MS on his terms. Along the way he described his struggle the only way he knew how to, he drew it—a struggle between two unstoppable forces. In the Introduction to 100 Months, Hicklenton's friend and colleague Pat Mills wrote ". . . [we would] never ask Jimi Hendrix to turn down the volume . . . and [we should] never ask John Hincklenton to turn down the netherworld, the examination of his soul and the loss of himself." Hinklenton battled MS with every cell of his body, with every memory, emotion, moment, and power that he could muster. What 100 Months is, is that struggle, the struggle of every cell put into pictures. It is his opus.
The first page of this novel sees the release of The Beast. A daughter of pain and suffering released into the world after 100,000 years. This beast has no face and an androgynous body. She ultimately thirsts for annihilation. She vows to kill the Swine God. Throughout the story, you see The Beas
t lay waste to cities, step upon the skull of the fallen, and seek out the seed of the long pig to destroy it at its source. These are not the rantings of a wild man, but the calculated thought of a man whose body is slowly being torn asunder from the inside. All of this is brought forth by his pen.
It is a powerful and unsettling book and, in a way, the most grimdark story I have ever read.
Should you read this? That is entirely up to you. What I look for in literature is to be emotionally affected. 100 Months is effective in that regard. Was it pleasant to read, Absolutely not. But, the author's death was neither friendly nor easy; it was pain and suffering. By reading this, I paid homage to his craft and his last moments. And in that, I am grateful to have read this.
Buy 100 Months: The End of All Things by John Hicklenton