Every now and then our team gets approached separately by the same publicist, or by two seperate publishers altogether, to review a book. And when that happens we end up with something that's rare as hen's teeth for our site–A DOUBLE REVIEW. This time, it's for Peace Talks by Jim Butcher.
This time, both Charles Phipps and Beth Tabler grabbed themselves a reviewer copy and took a look.
Charles' review of Peace Talks by Jim Butcher
Peace Talks is the 16th book in the Dresden Files series by Jim Butcher. This isn't really a grimdark novel or even horror but it is a series that we love, so we're going to be sharing our review of it anyway. It's also nice to see an author get over a long schedule slip. The last Dresden Files, Skin Game, was released six years ago in 2014. Given the series was chugging along at roughly a book a year, it was a really harsh dry spell for his fans. We had to find other others to read and some others like myself made their books because they didn't have the comfort of Harry Dresden, Molly Carpenter, or Karrin Murphy.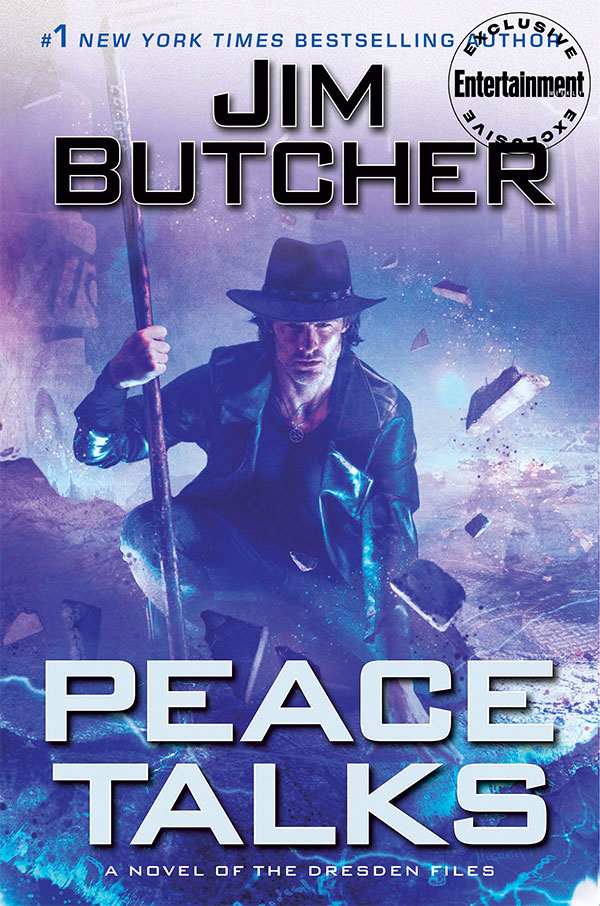 The premise is that it takes place about six weeks after the events of SKIN GAME, which puts it in 2014 rather than 2020. It's a shame as I would have been interested in how Harry reacted to the massive series of events that have occurred during the past six years even if he's a not very political sort of guy. Jim Butcher summarizes the events of Skin Game in a pretty organic way, leaving us with where everyone is and what has been done to them. It's not a particularly good place with Murphy but she's coping because Murphy is a badass.
Harry Dresden is trying to settle into his new routine with a daughter he's raising as well as the fact that he now has access to regular hot water (long story). He's also the Knight of Winter and that's something that obviously contradicts with his obligations as a Warden of the White Council. Despite this, he's contacted by Carlos Ramirez to serve as a liaison for the peace talks happening between the Formor and the White Council after years of fighting. Things immediately go pear-shaped as his brother becomes caught up in what can charitably be called an international incident.
Reading a Dresden Files novel is like putting on a comfortable pair of shoes. They may be a little worn out, perhaps get more love than they deserve at times, need some repair, and maybe you're defensive about replacing them. However, they are shoes you love. I've been reading about these characters since 2005 when I picked up a copy of Dead Beat and I'm still invested in them. While the delay was harsh, I have no problem jumping back into the complicated and wonderful world of Jim Butcher's Chicago.
The book's primary appeal for me is its characters, the humor, and action. You know, the things we've come to expect from Dresden Files books. Well-loved characters like Ebenezer McCoy, Carlos Ramirez, Butters, Murphy, Lara Raith, and Molly have big roles. Harry, as usual, is impossibly stubborn and a bit slow on the uptake. Anyone who loved the previous books in the series will almost certainly love this one too.
And the ending? Wow, the ending. It's both incredible and infuriating simultaneously. It's a cliffhanger and I can't wait for Battle Ground.
Beth's review of Peace Talks by Jim Butcher
Peace Talks, Jim Butcher's newest installment in the Dresden Files universe is the culmination of all of Harry's experiences, pain, and victories blending into one great explosion that resonates with, "I am enough."
It has been a long, long time since I have read any new snark coming from the mouth of Harry Dresden. There is a giant hole in my TBR stack that only a Dresden book can fill. The Dresden series are books that make you smile and not take life so seriously; they are the best parts of Urban Fantasy as a genre. The series taken as a whole is half Sam Spade (trench coat and all) and half the tv show Supernatural. It is wizarding with an attitude. It is a take no bullshit, going to do what is right, Dresden is going to smite the bad guy kind of fun. It is heart and soul and so many things. Although there have been a few short stories since Butcher's last book, it has been six years since the previous full Harry novel.
But let me tell you folks; this book is worth the wait.
We return to Dresden's world very near where Skin Game left off. You can read Peace Talks singularly. However, I think readers should read Skin Game. There are many plot points that Butcher touches on that might be lost on readers if you aren't vaguely familiar with them. Harry is still a member of the council and is the Winter Knight for Queen Mab. All of these twist and turn and pull Harry's loyalty in many directions.
Complicating things is a situation with Thomas. Thomas, for some reason, does something very uncharacteristic for himself and gets in trouble.
In Peace Talks, Harry, an "every situation can be solved with a tornado" kind of wizard, is faced with something he is not known for talking and subtleties. Peace Talks is just that; it is the gathering of most of the world's significant magical forces to talk. The idea is not to jump all over each other, whip fire around, or see who is wielding the biggest magical staff. Instead, it is talking in peace amongst your peers and hammering things out. Also, Peace Talks touches on familial issues: Dresden's relationship with his brother and Grandfather plays a large part in the Narrative. We are blessed with moments of Harry interacting with reoccurring characters. Butters, Karrin, Molly, and Mouse all have standout moments. Especially Mouse, that dog has single-handedly made me want a Foo dog so that I may name him Mouse. Don't tell me Foo dogs aren't real.
"Okay," Butters said. "So… that just happened." He regarded the ectoplasm and then me and shook his head. "Your life, Harry. What the hell?" 
Dresden seems more at peace with who he is in this book more than any book or short story written. He has great interactions with Karrin that exude hard-fought-for calmness and familiarity. It is lovely to read as Harry deserves some peace in his romantic life for once. There are also moments later in the book where, while battling a foe, Harry realizes that he is his own man and does not need to explain or defend it. Even to his most trusted advisors, friends, and lovers. You would think that by book 16, he would have figured this out by now. But there is a difference in knowing something and internalizing it. I believe that Harry has finally internalized that he is enough; he always been enough, and given his history and experiences, people should start believing in him.
This book is also a love letter to the idea of found family.
"Yeah, one second." I finally found the folded-up piece of paper with the weekly passphrases on it in the depths of the gym bag. I unfolded it, shook sand off it, consulted it, and read, "All of my base are belong to me. What does that even mean?"
A little back story on Harry's character. He is an orphan, both of his parents have passed away, and his grandfather had raised him. He has few people to turn to that are blood-related. So instead, he finds his people, his family. They become as dear to his heart as much as anyone who shares his blood. It is part of what makes Harry such a fun character to read. He has a certain authenticity; he genuinely loves the people he adopts as family members. Sometimes this is used to hurt him as we have seen in previous books, with his daughter used against him as leverage.
"Yer a wizard, Harry."
Pacing wise, this book feels different than previous Dresden stories. I know that this is marketed as having a small procedural arc like most of the Dresden file books do, this arc then sits inside a massive ongoing series arc. But although the end of the book does come to some conclusions as expected, it does not feel whole to me. Instead, it feels like it was written as 1/2 of a story to be concluded with Butcher's next book Battleground. This might be why they are being released close together as Battleground is due to be released on September 29th of 2020. This is pure speculation; Battleground might feel very much like its own book. But I think that we are going to get a more solid feeling of closure for Peace Talks when Battleground has concluded. Either way, Butcher is blessing us readers with two Dresden stories this year.
If you take on the Dresden Files, 16+ books, it might seem overwhelming. A lot is going on. But trust that even if you haven't read the previous books, you will enjoy this one. It is full of snark and quips, great plot, pacing, and standout moments. And, if you have read the previous books, you will fully appreciate it as it almost feels like he wrote it with the fans in mind. Butcher needed to remind longtime fans why this series is so much fun, and he does that in spades. As we have Battleground set to be released this fall, it is a banner year for Dresden Fans. If Battlegrounds is anything like this one, I don't think fans will be disappointed.
Read Peace Talks by Jim Butcher