The Last Kingdom Season 2 from Netflix continues Uhtred Ragnarson's quest to reclaim his home. The second season adapts the third and fourth novels of Bernard Cornwell's The Saxon Stories about the birth of England in the ninth and tenth centuries.
Whilst the first season ended with a bang – a bloody battle in which Uhtred aided King Alfred in a grand and visually stunning victory – The Last Kingdom S2 begins slowly. Our hero is sleeping in a filthy stable after a night of drinking until he is woken up by the nun Hild (a true gem this season) throwing a bucket of water over him. Needless to say, Uhtred hasn't changed. He heads north to aid Guthred, a man many claim to be the rightful King of Cumbraland, and one who shares a common enemy – Kjartan the Cruel. Uhtred is successful in supporting Guthred and seeing him on the throne but Guthred is convinced by the God-fearing men around him that the popular pagan Uhtred will be a problem and so he is sold into a brutal life of slavery.
The Last Kingdom S2 attempts to juggle a lot over the eight episodes. One of the pitfalls of adapting two novel's worth of twists and turns in such a short amount of time is that certain plotlines are rushed and not given the time necessary to live and breathe on their own. The pacing of the series suffers as a result – something most clearly seen in episode 3 as Uhtred is enslaved on a ship, tortured, is rescued, and then deals with the trauma – both mental and physical – to seek his revenge on those who wronged him. It is a shame, as this episode allows the audience to see Uhtred stripped of his smug confidence. There are no witty one-liners; no women to chase after; no strength in his arms to even raise a sword. We see him in a completely different light – a man broken and beaten. In his suffering, he becomes a more sympathetic character for the audience to root for. Such a pity that this development is rushed.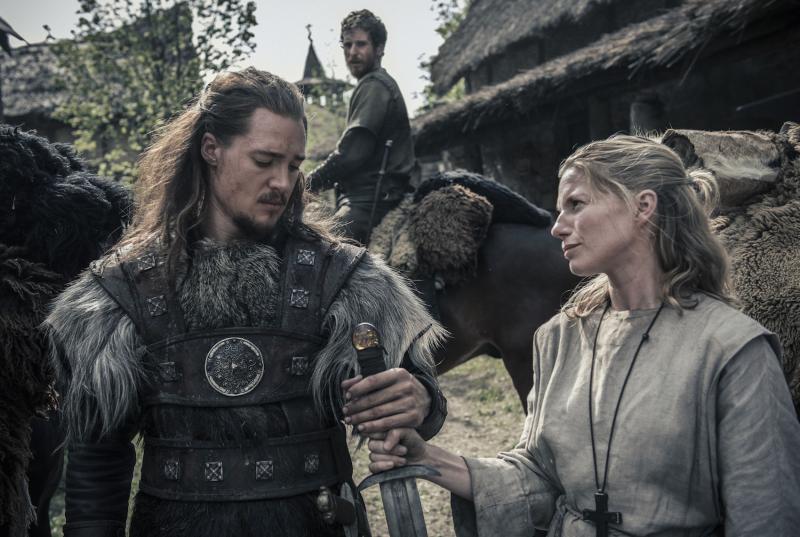 The Last Kingdom S2 is a joy to watch when it gives time to develop the relationships between the characters. Nun-turned-warrior Hild has a beautifully platonic relationship with Uhtred. The brothers, Erik and Sigefrid are volatile but care deeply for one another. Alfred's cold and calculating methods and ideas are clearly contrasted by Uhtred and Odda, causing more conflict for the ambitious king. We see characters who cannot be easily judged whether they are Saxon or Dane and this gives a level of mystery to the season.
Compared to Game of Thrones and Vikings, The Last Kingdom Season 2 works on a smaller scale. There may be few bloody battles in this season but when they arrive, they hit harder than most. Just like in the first season, the episodes build towards an epic battle with clear stakes as Alfred and Uhtred are once again forced together – this time to save Alfred's daughter from the vengeful brothers, Sigefrid and Erik.
A slow beginning with pacing issues that eventually leads to an epic finish. Patience pays off for those willing to sail through the choppy waters of the first few episodes. The Last Kingdom Season 2 continues to be must-watch television. Season 3 awaits…
Watch The Last Kingdom Season 2